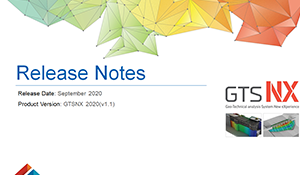 New Features
midas GTS NX 2020(v1.1) has been released.
The following features and improvements have been added:
Partial Factor based on Euro Code
Partial factor which is derived from Euro Code (EN1997-1 Annex A) can be applied on the 2D model.
(Partial factor will be considered to materials which is containing the cohesion and friction angle and construction stage analysis with stress type)
Virtual Beam
It is creating the virtual beam from 2D/3D element and will be expressed with diagram for the result of virtual beam. Force can be found from virtual beam force after analysis with activating the mesh set of virtual beam under construction stage.
3D plane will be created on the normal direction of created virtual beam and force will be got from Local Direction force Sum of element which is on the same plane.
Considering Elastic Zone from Pile Element
It is considering the elastic zone which is using the pile interface on the 1D beam element from 2D/3D model.
There is plasticity without considering the elastic zone and will be occurred huge deformation. So, elastic zone will prevent to occur the plasticity in the area considering diameter of pile.
Improvement of Jointed Rock Mass model
The dilatancy angle and tensile strength have added to each joint. Also, Failure criteria of Mohr-Coulomb can be applied on intact.
PM4Sand model
It is developed to scheme the liquefaction using plastic theory based on effective stress. It is expanded to analysis with non-linear implicit based on the material model which is applied to liquefaction scheme using explicit method.
Elastic: It is nonlinear elastic behavior changing the elastic modulus with effective pressure(P) under Elastic zone. It needs to be selected with linear elastic or power law.
Rayleigh Damping Stiffness
It has added initial stiffness dependence method for Rayleigh damping process from damping force calculation.
Pretension Type (Multi-Stage Prestressing)
For Prestress > Pretension type, the load can be added or replaced under construction stage.
In case of pretension will analysis with external force. Previously, It is working with only add function under the activation step. But, User can add or replace the pretension from this newer version.
Improvement of Mode Combination with Sign
It has added the expression of sign for user convenience about the result from each ingredient.
Option 1. Principal mode from each direction
Option 2. Maximum mode (Absolute value)
Phreatic Line/Face

It can be verified phreatic line and face from seepage analysis result and check this result with others.
Estimate Unsaturated Property
The properties of saturated soil are inputted by test data and it is hard to conduct the test in real project due to the time and cost. From the newer version, the curve can be made by void ration, specific gravity, density and reference grain distribution from curve of grain distribution.
SRC Section DB
SRC(Steel Reinforced Concrete) can be defined under 1D element(truss, beam, embedded truss, embedded beam).
Automatically Calculation of H Section

It is calculating the torsional stress coefficient, effective shear area and shear stress coefficient automatically from selecting the database of H section, r1/r2 can be inputted additionally.
Control the Artificial Earthquake
Random Seed can apply to get same artificial earthquake.
Improvement of Loft Function
It has improved the loft function with new method. Loft function can use to section with hole.
(Previous method: direct loft between models, Newer version: lofting with center between models)
Label Location of Dynamic Nodal Load
The location of arrow from dynamic nodal load can be controlled. It can select Start, Middle, End position.
Improvement of Stage Bar from Post
If there are many subcase under post tree, the post function will work slowly so that it has improved.
The subcase will check off as a default after analysis. It needs check on to see the stage result.
Improvement of Prescribe Strain(Volumetric Strain)
Prescribe strain can be applying to linear static analysis, nonlinear static analysis, consolidation analysis and fully coupled analysis as well.
There is no strain component of z direction so that it has eliminated.
Improvement of Applying LDF
The error message has updated more correctly under stress-seepage analysis. The construction stage need to be constituted seepage analysis first under stress-seepage analysis. This stress-seepage analysis will be calculated pore pressure from seepage analysis to stress analysis.
ex) step 1. Seepage or Stress > step 2. Stress(Deactivate mesh & LDF) > step 3. Seepage (about step 2) > Step 4. Stress ← Analysis N/A
Step of LDF will be counted under stress stage only from stress-seepage analysis.
Words Amendment from Plastic Hardening Function
Plastic Hardening Function and Frictional Angle Hardening Curve are similar so that it has unified.
1) Mesh > Prop./CSys./Func. > Function > Plastic Hardening Curve Deleted
2) Nonlinear tab from MMC model > Friction Angle at shear > Hardening Function > Name has changed from Plastic Hardening Function to Frictional Angle Hardening Curve.
3) Hardening Curve's table: Plastic Strain -> Equivalent Plastic Strain
Output of 2D Equivalent Linear Analysis
In case of 1 from all output step and step will be provided the history graph without considering Intermediate output of time step from the 2D equivalent linear analysis.
History graph contains interval of step and time under selecting the frequency of history output probes.
Mining Model Converter
DataMine SW(MicroMine, Leapfrog, etc.) model file can be converting to GTS NX file.
Downloads
You can download the latest GTS NX install via the MIDAS Software Download pages:
GTS NX 2020(v1.1) Installation Program
For more details and what technical issues have been solved, please read our release notes:
GTS NX 2020(v1.1) Release Notes